ShareASale affiliate program review.
Now that you have your new blog or website up and running. It's time to start monetizing your blog with affiliate marketing products. I wanted to mention a couple of things about affiliate marketing and how you can start promoting products.
Disclaimer: This post contains affiliate links. This means I may earn a commission should you chose to sign up for a program or make a purchase using my link. It's okay – I love all of these companies anyways, and you will too!
What is Affiliate Marketing?
Affiliate marketing is a way for bloggers to earn money promoting other people's products or services. You can Learn all about Affiliate Marketing Here. Truthfully it a way to monetize your blog to start earning passive income each month.
Affiliate Marketing consists of three key things. They would-be publisher, merchant, and the consumer who buys the products. Each of these playing an important role in you being able to make money online. The internet is full of affiliate networks one of my favorites networks is called ShareASale, Commission Junction, and ClickBank.
In today's ShareASale affiliate program review, you will find out how to make money with affiliate programs.
What's The Big Talk About ShareASale?
First off it's away for bloggers who have a website or blog to start monetizing through affiliate networks such as ShareASale. By joining the ShareASale affiliate program, you can easily make a couple of hundred dollars possible up to $5,000 a month.
You get paid per lead and the sale of the product you are promoting. ShareASale has over 4,000 merchants with hundreds of categories to choose from according to your niche.
Once you have created your account there are tons of niche products that you can apply for approval. In this ShareASale affiliate program review, you will know exactly how to start Maloney money with ShareASale.Let's get started.
What is ShareASale?
ShareASale is a platform of affiliate networks that's been around since 2017. ShareASale constantly working with merchants and affiliate marketers by offering over 4.000 merchant offering products to bloggers. ShareASale is one of my favorite networks for finding affiliate products and soon it will become your favorite.
What Are The Requirement Needed Before Joining ShareASale?
There are a few requirements needed before signing up for a ShareASale account. Here are those requirements listed below.
Have a Website That You Own Yourself
Email Account
Payment Method
Your Country, US, UK, Ca, etc
Now that you learn what's requirements in this ShareASale affiliate program review. If you don't have a website or blog. Check out my No#1 beginners training course that will teach you everything you need to know about building a profitable website.
How To Signup With ShareASale Affiliate Program?
The first thing you want to do is head over to ShareASale In this section of this ShareASale affiliate program review. Let's walk you through the process of creating your account.
Create Your Username and Password
Now you want to create your username and password. Then select your country. Once you have filled this out click on next or go to step 2.
Add Your Primary Email Address
Next, you want to add your primary email address. It's best to have a domain email address for best results if getting approved for programs, However, if you don't have a domain email, you can still use Gmail.
Select Your Payment Method
Now it's time to filled in your payment method. This tells ShareASale how to pay your commissions each month. I recommend double check before you submit to make sure everything is correct. You have a couple of options such as direct disposit, Send check in the Mail or FedEx Mail.
How To Make Money With ShareASale?
In this ShareAsale affiliate program review, you will learn how to make money by promoting other merchant products. Let's dive in
How To Guides: is one of the favorites by bloggers. Whenever you begin to write how-to tutorials it tends to draw your reader's attention more. One of the reasons for this it shows them your expertise on the product or service. You are showing your readers how the product work and why it's the best fit for them. Instead of trying to get them to buy into the product or service. People tend to buy more if they trust your expertise.
Creating a Resource Page on Your Blog or Website: By adding a resource page is another method on how to make money with ShareASale. This is good because your readers will want to know what you are using to grow your business. So they will check out your resource page to copy what you are doing. Check out my Resource Page to get a glimpse of what it should look like on your blog.
Use Merchants Banners: Whenever you find an affiliate product within your niche on ShareASale to promote on your blog. In most cases, they will provide you will affiliate links and banner ads. You can start placing these ads in your blog article to drive more clicks. Click on the get links to banners to get the code needed to place the banner on your blog.
Promote Affiliate Products On Social Media Sites.: The best way to promote your affiliate product on social media is to write a blog. This helps spread the news about your product and what it's all about and why they should have it. Whenever you write a blog post about the product you are promoting make sure you pin it to Pinterest. See What I'm Doing and Follow Me On Pinterest. Also, you can also share your post on Facebook and Twitter.
Email Marketing: I highly recommend building your email list. An email is one vital part of your online business. It can have a huge advantage when it comes to promoting your niche products or services. Let's say you already have 500 subscribers. You can send out an email message each week talking about your affiliate product offer. In most cases, you should get about 2% conversion from each mailing. If you don't know where to start Check out my No#1 recommendation for building your email list today!
Bonus Affiliate Tip
In this part of this ShareAsale affiliate program review. It is important that you find affiliate programs that are related to your niche. Browse categories of all the merchant's products related to your niche. My blog is about growing your online business. Don't promote products that have nothing to do with your niche. It will only end up hurting you in the end.
That's why I talk about SEMRush Get more traffic to your website with versatile solutions for every step of your SEO journey.
Now learn how to find the right keyword that will drive more traffic to your blog or website.
Final Thoughts
By joining shareasale.com affiliate program doesn't mean you are guarantee to make money from merchants product or service offers. You can join tons of affiliate marketing programs but still not earn a dime. It's all comes down to how well you promote and what strategies you use to get more clicks.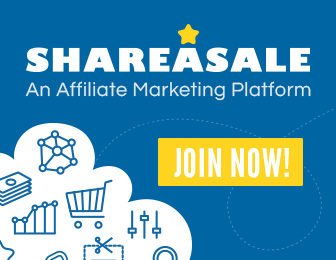 The main goal is to try everything to promote your affiliate products to get those conversions to earn money. By following the example in this post is a good way to start earning money from products in your niche. If you haven't joined ShareASale Just click the banner below to get started today!

Do me one favor Please>>> If you found this blog post helpful. Please Comment Below and Share on Facebook, Pinterest, and Twitter or just click on the social icons to share.